LMS Software and Remote Work: Empowering Distributed Teams
Thinking Cap Blog | 2023-09-08
In recent years, remote work has become increasingly prevalent, emphasizing the crucial role of technology. Learning Management System (LMS) software is increasingly valuable in this context. This article will delve into how LMS software empowers and boosts the productivity of remote teams.
The Remote Work Landscape
Remote work offers numerous benefits, such as increased flexibility, access to a global talent pool, and reduced commuting stress. However, it also presents unique challenges, including communication barriers, isolation, and maintaining a sense of cohesion among team members spread across different locations and time zones.
LMS software emerges as a potent solution, and below, we outline essential steps for a successful onboarding program.
Centralized content and resources in one learning hub
1. Centralized Learning Hub
Remote workers may struggle to access resources efficiently. Establishing a central repository for all learning materials, including courses, training modules, documents, videos, and other resources, simplifies access for these workers. Employees can easily locate and engage with the relevant learning content through this hub.
An LMS plays a pivotal role in modern organizations, serving as a central hub for training materials and resources. This consolidation streamlines employee learning, providing easy access to up-to-date information, courses, and reference materials, eliminating the need for scattered folders or physical manuals.
For example:
A global retailer wants to meet the needs of its entire workforce, no matter where they are. By centralizing all training materials, resources, discussions, announcements, and mentorship programs in one place through the LMS Learning portal, employees can easily access information and collaborate with other employees virtually.

Steps to transform your LMS into the ultimate learning hub:
Import all of your required training content
Link to all external resources
Start and seed group discussions
Present regular webinars, ideally on topics requested by your employees
Visualize learner profiles and their successes
Set up a catalog of additional training content
Reward learners for their participation using badges, learning points or certificates
Find out more about our learner experience options.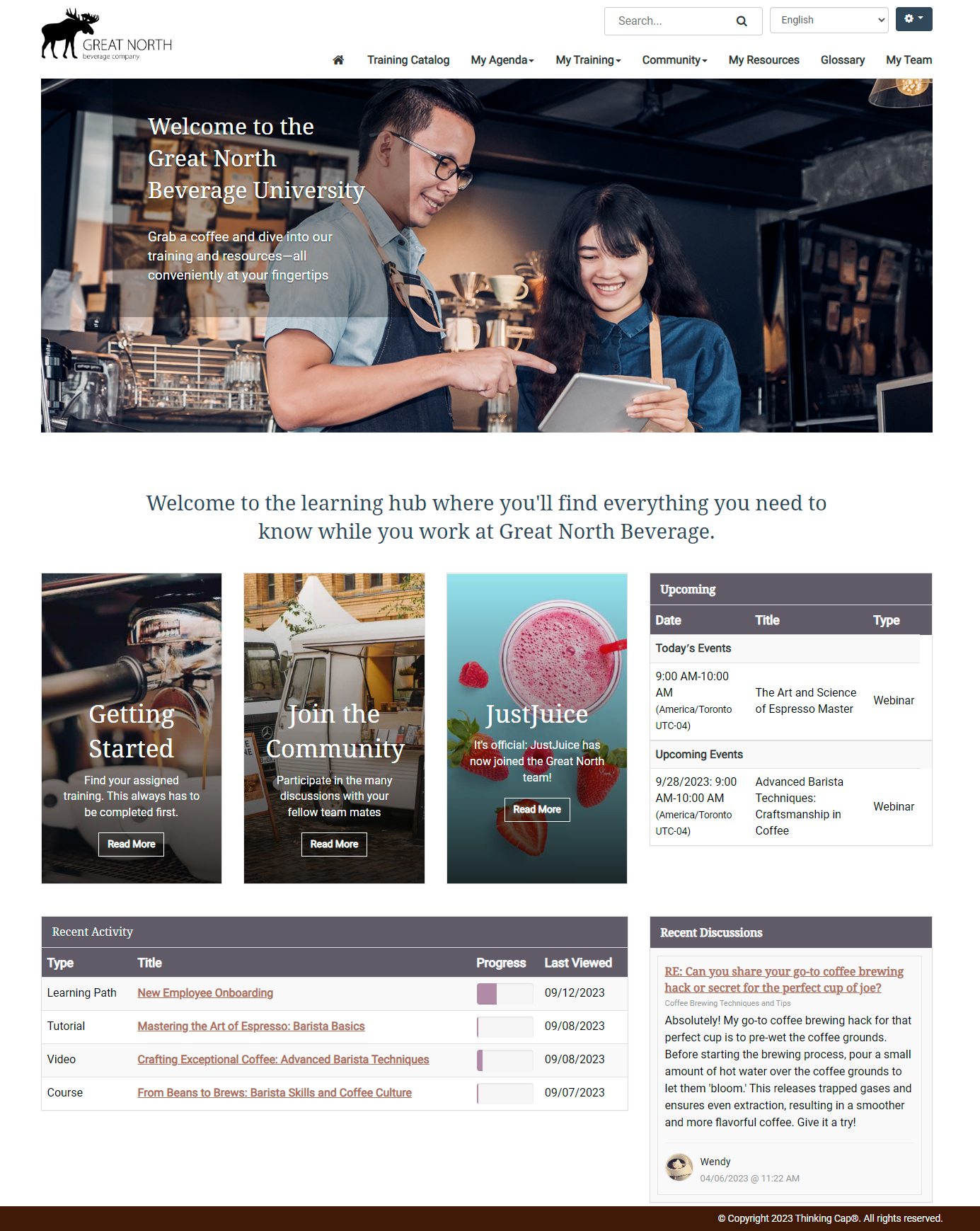 Consistent onboarding and training across time zones and languages
2. Localization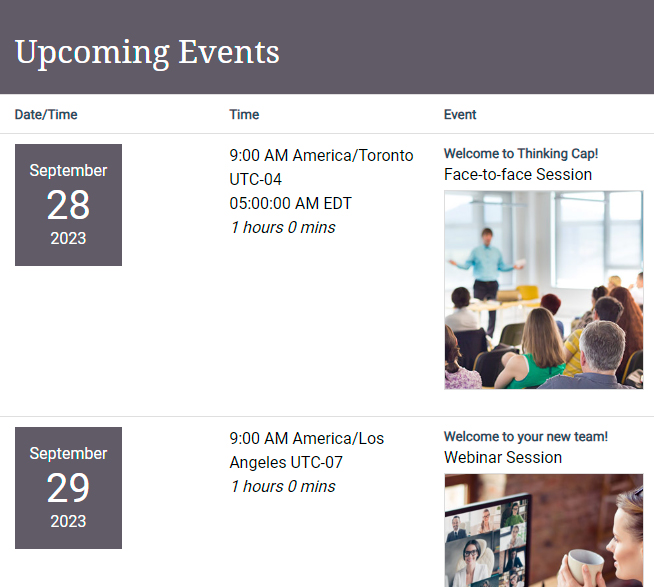 In the current global and remote work environment, teams are located in different places and speak different languages. Ensuring equal access to training materials and resources is crucial.
An LMS bridges the geographical gap, offering an even playing field for all employees, no matter their location. This promotes consistent knowledge sharing and fosters inclusivity among remote teams, leading to improved performance and organizational success.
For example:
A multinational corporation with sales teams in North America, Europe, and Asia faces the challenge of training employees with different language preferences and market conditions. They use an LMS to provide training content in multiple languages, allowing employees in different locations to choose their language, time, and place for learning. This ensures that team members can enhance region-specific skills, leading to improved sales effectiveness.
Strategies for nurturing geographically diverse teams:
Schedule webinars at times that work for all team members or a separate webinar for different time zone block
Translate your learning hub interface into your employees' chosen languages
Allow employees to filter content by their chosen language
Send notifications in the employee's chosen language
Seek feedback from employees from each region
Customized learning plans based on their job role and location
3. Customized Learning Paths
Remote employees engage with content differently. Some attend sessions in real-time, while others prefer recorded versions. Content may be differ based on the employee's job role, seniority, language, and location. To address these differences, onboarding must be flexible and personalized.
With an LMS, remote employees can be enrolled into learning paths tailored for remote employees, and aligned with their roles, skills, and career objectives. This flexibility supports self-directed learning, empowering team members to enhance their skills and acquire knowledge independently.
For example:
In an organization with newly hired remote employees across the United States, compliance training like Workplace Violence and Harassment training needs customization based on the state where each employee works. This is crucial due to state regulations, ensuring the right training for each employee.

Crafting customized learning plans for your employees:
Identify regional-specific content, and assign them accordingly.
Set the onboarding learning path to accommodate regional-specific versions of content.
Set the onboarding learning path to accommodate different dates/times for events (both in-person or virtual).
Enrol remote workers in training content specific to working remotely.
Incorporate assignments with recorded submissions.
Incorporate collaboration activities into your learning path.
Find out more about our learning paths.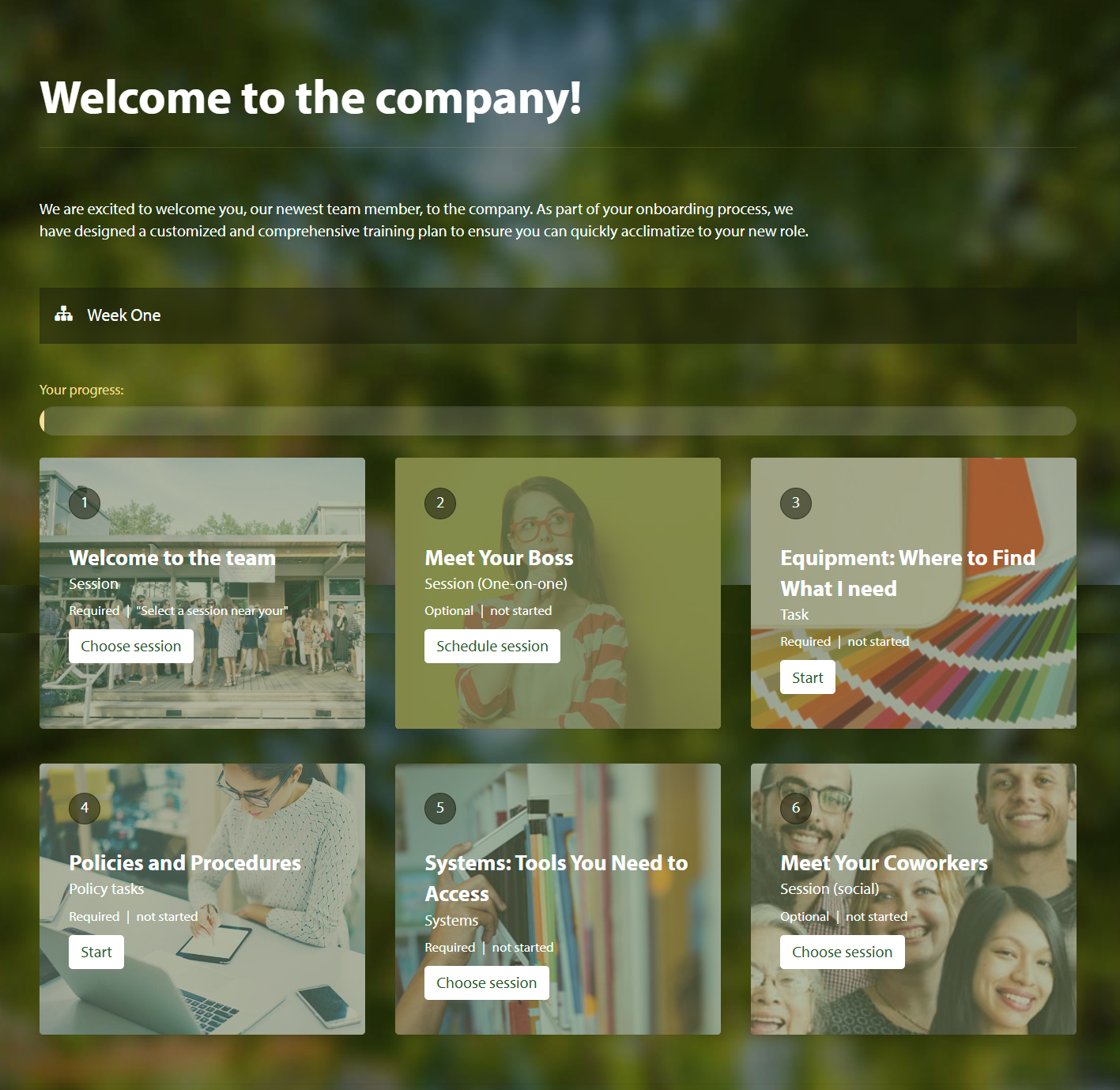 Fostering innovation through cross team collaboration
4. Team Collaboration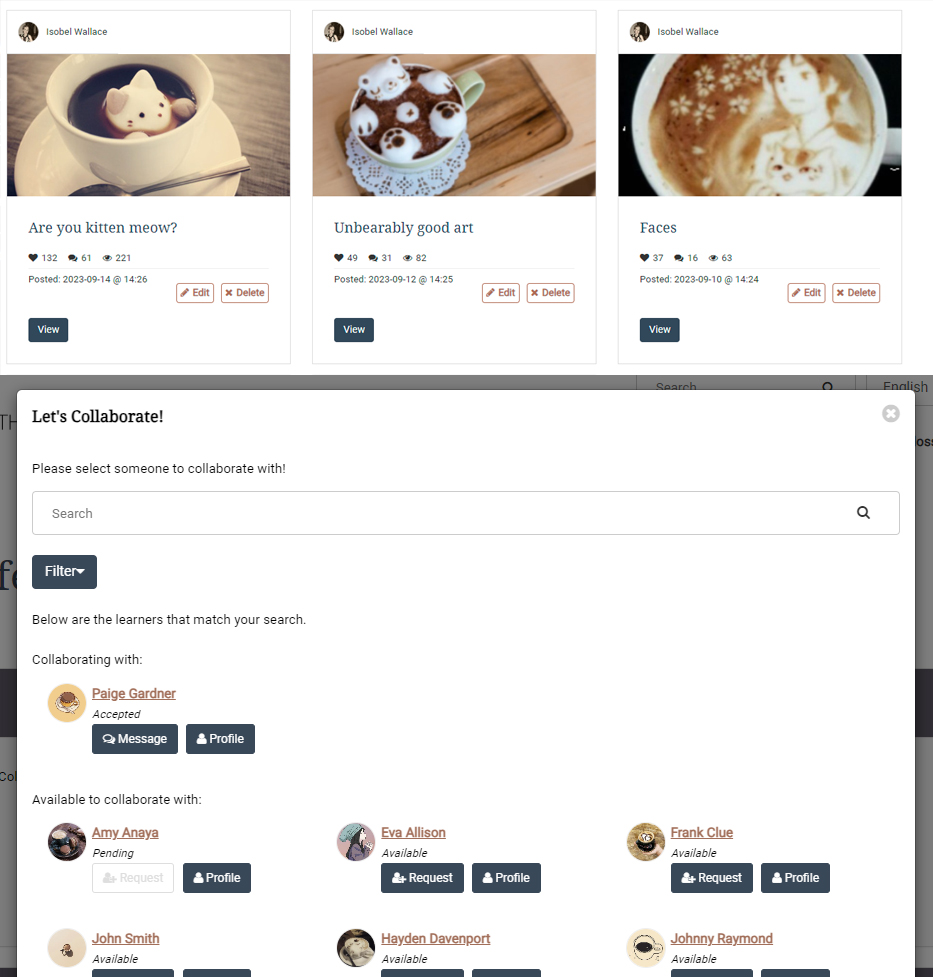 Remote workers often struggle to connect with their team due to physical distance, potentially leading to isolation and hindering their integration and commitment. To address this, companies should actively foster remote employees' sense of belonging through virtual team building, video meetings, and open communication channels, ensuring their engagement and value in the team's success.
LMS platforms often have social features like discussion boards and quizzes that promote interaction among remote team members, recreating the sense of community from physical offices.
For example:
A tech startup with a growing remote team from diverse locations faces challenges in building strong connections among employees. In a fast-paced startup environment without in-person interactions, remote workers may feel isolated and disconnected from the company culture.

Methods to foster team bonding and collaboration:
Build and seed focused discussion groups in online communities.
Implement a mentorship program.
Schedule virtual coffee breaks.
Incorporate training activities that require team collaboration
Collect feedback.
Match the employee to a mentor.
Schedule optional virtual social gatherings.
Set-up team-specific gamification (i.e., leaderboards and treasure hunts).
Implement employee recognition program.
Find out more about our communication and collaboration tools.
Monitor employee progress and performance
5. Tracking Performance
Effective onboarding can be trickier without daily in-person contact. While providing managers with a dashboard for tracking is a valuable tool, guiding and mentoring these remote employees demands a more comprehensive approach to monitoring and support. Managers need to track how well the new employee is fitting in with the team, and whether they understand the company's culture and values.
For example:
A tech company hires a skilled remote software developer from another state and gives the manager a dashboard to monitor the developer's onboarding progress, including training modules and policy reviews. However, the manager recognizes that effective onboarding involves more than just completing tasks.

Monitoring the onboarding progress of remote workers:
Enable a dashboard for managers.
Give managers visibility over employee feedback.
Integrate managers into the training content grading.
Schedule one-on-one video check-in sessions into the onboarding plan.
Include milestone goals into the onboarding plan.
Find out more about our reporting and dashboards.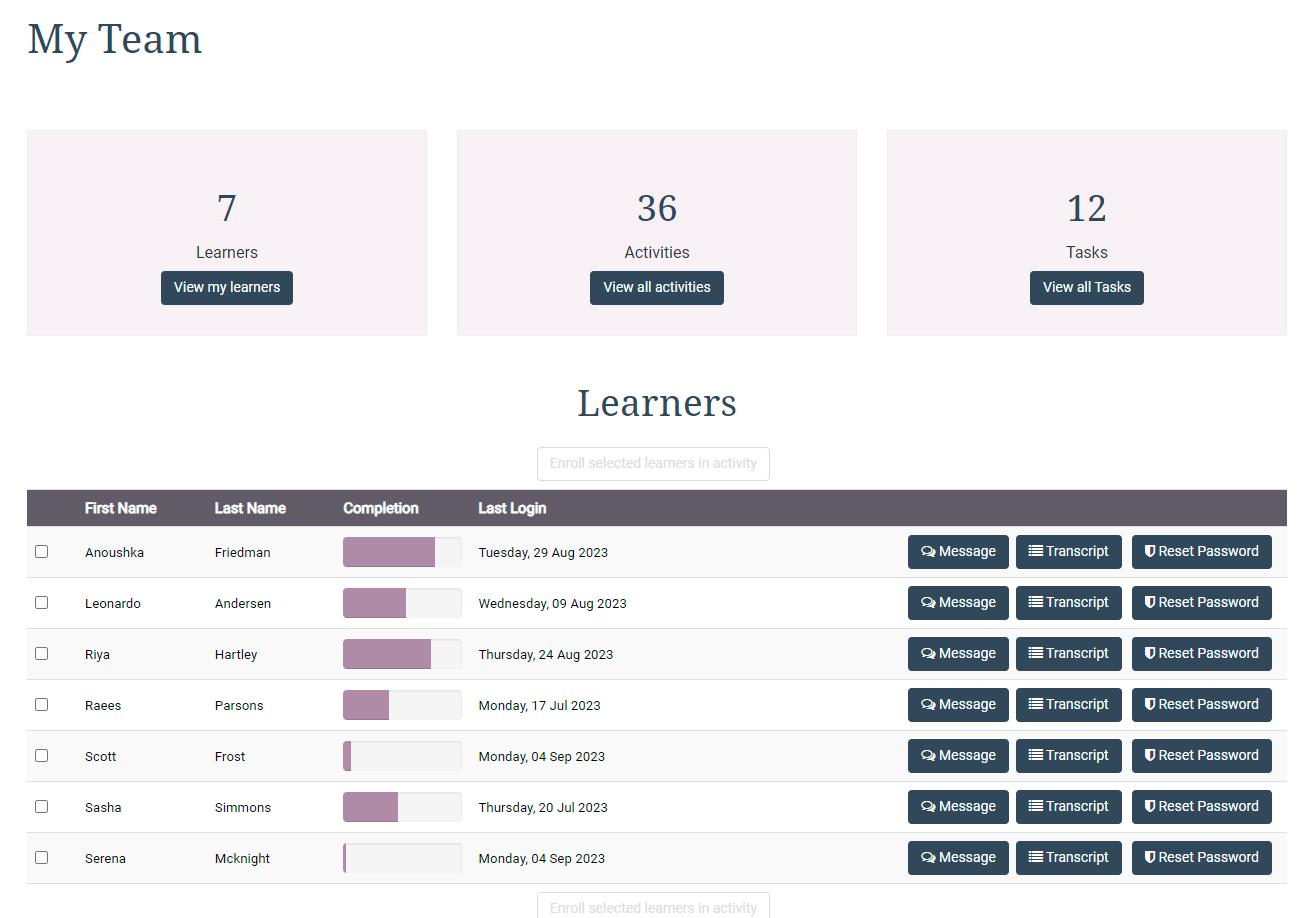 Promote continuous professional self-development
6. Continuous Professional Development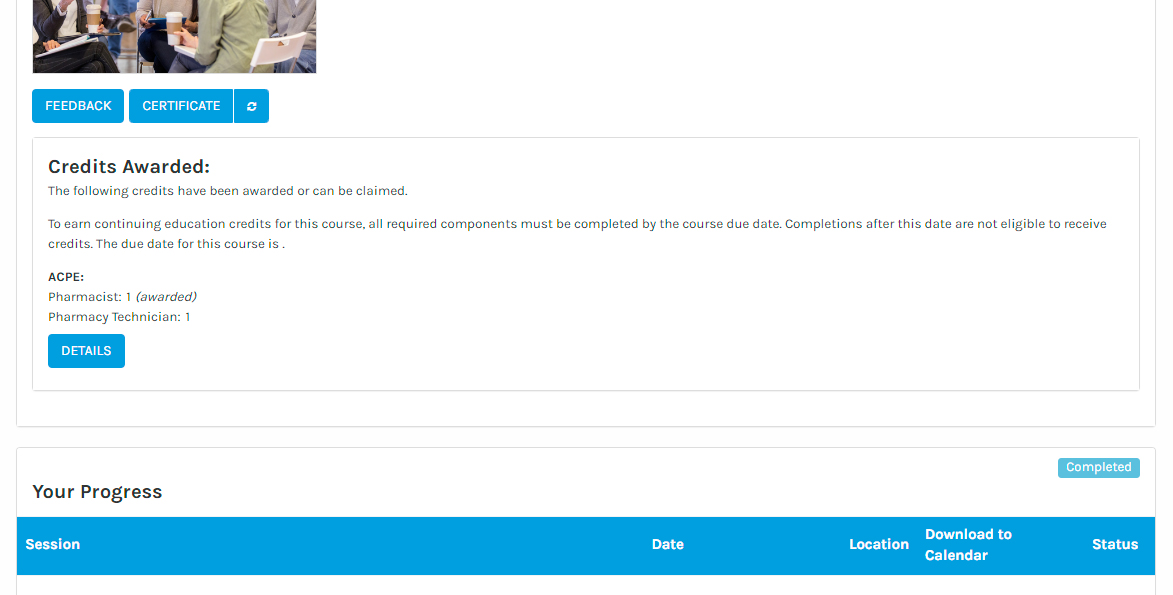 As organizations evolve, it's important to keep employees informed about developments, including new product offerings, service expansions, or updated tools and procedures. However, this is only on part. But this is just the beginning. As the organization grows, employees must continuously improve their skills through ongoing professional development, which is a fundamental part of the organization's values.
For example:
For instance, pharmacists and pharmacy technicians are mandated to complete ongoing continuing education (CE) hours. This requirement ensures they stay informed, skilled, and able to provide top-notch pharmaceutical care while adjusting to changing healthcare practices and regulations. An association of these professionals can deliver this ongoing training and track awarded credits (CEUs) through their LMS.
Ways to enhance continuous professional development:
Notify new employees of the expectation for continued professional development during their onboarding.
Schedule regular webinars.
Apply for certified credits (CEU) by the appropriate agencies.
Promote new training through notifications.
Visualize their continued training on the learning hub home page.
Find out more about our continuing education credits options.
Embracing the Future of Work
LMS software is a vital investment in remote team success, offering a virtual space for learning and collaboration. It plays a crucial role in fostering growth and cohesion among distributed teams, making it a key asset as organizations adapt to remote work challenges and opportunities.
Are you ready to embrace the future of work? Take the next step in empowering your distributed workforce with the support of cutting-edge LMS technology. Request a demo of your solutions today and discover how we can transform the way your organization learns, grows, and thrives in the digital age. Join us in shaping the future of remote work with the power of LMS software. Request your demo now and unlock the potential of your remote teams.
Request a personalized demo
---
Share this article
Want to find out more?
Book a session today for a personalized demo and Q&A.
Book a Demo